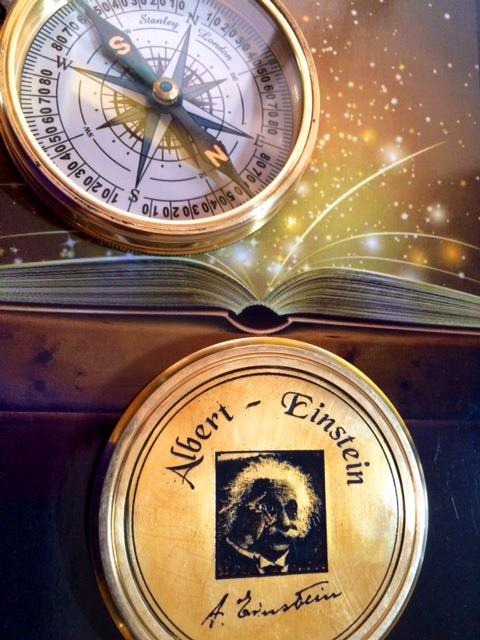 What gives my life meaning? To make a difference, using my creativity to uplift and inspire. "Einstein's Compass a YA Time Traveler Adventure" is not just a story to me. It's a mission to share with the world what one young not so famous young boy did with his determination and courage. I chose Albert Einstein's story because like him I too struggled with family issues, abuse, and thrown away. Yet he used his creative imagination and followed his dream to know what time is, what is light, and changed the world. People who dream inspire me. We need everyday people who become heroes to remind us to dream. A compass Albert's his father gave him when he was a boy was more than a direction finder. It became a dream, his moral code to stay on course. Albert had courage, the heart to continue his journey, no matter who stood in his way or what tried to stop him. In this time of darkness, find your spiritual compass. Maybe you too can change the world.
Einstein's Compass a YA Time Traveler Adventure – The Spiritual Compass
Johann flushed with the praise. Then his face became serious. "Why is Albert's compass so important, Moses?" Though a relative newcomer to the astral realm, Johann had acclimated quickly. He no longer stared wide-eyed at the celestial beings who visited this place often, and he had come into acceptance of his new life with remarkable ease thanks to the compassion and abundance of love accorded him by all he met.
Moses directed him to the bench next to the oak tree and gestured for him to sit. "What do you know about the compass, Johann?"
The novice sat and considered the question. Johann tapped his lips with one finger, then, after a brief pause, said, "Usually a compass is used to find your way. It points to the magnetic north of the Earth so you can get your bearings." He paused again. "But I have seen Albert's compass do magical things. So, I'm guessing this is no ordinary device."
Moses smiled and nodded. "It is indeed quite unique. Albert's compass, when used with love, can create supernatural occurrences." Moses smiled again at Johann and said, "Think back to when Albert first showed you the compass and you saw the number thirty-three projected from it into the air before you."
Johann's eyes glimmered at the memory. "We were just young children when that happened. In fact, we had just met. How did you know about the number?"
Moses smiled, "Let's just say that I have been aware of you and Albert for a long time. Now think of what Albert did that caused the number to appear."
Johann's face lit up as the memory returned. "I think Albert put the compass to his chest. He said he loved his papa for giving him the compass. Then it happened."
"Yes, yes that's it," Moses said approvingly.