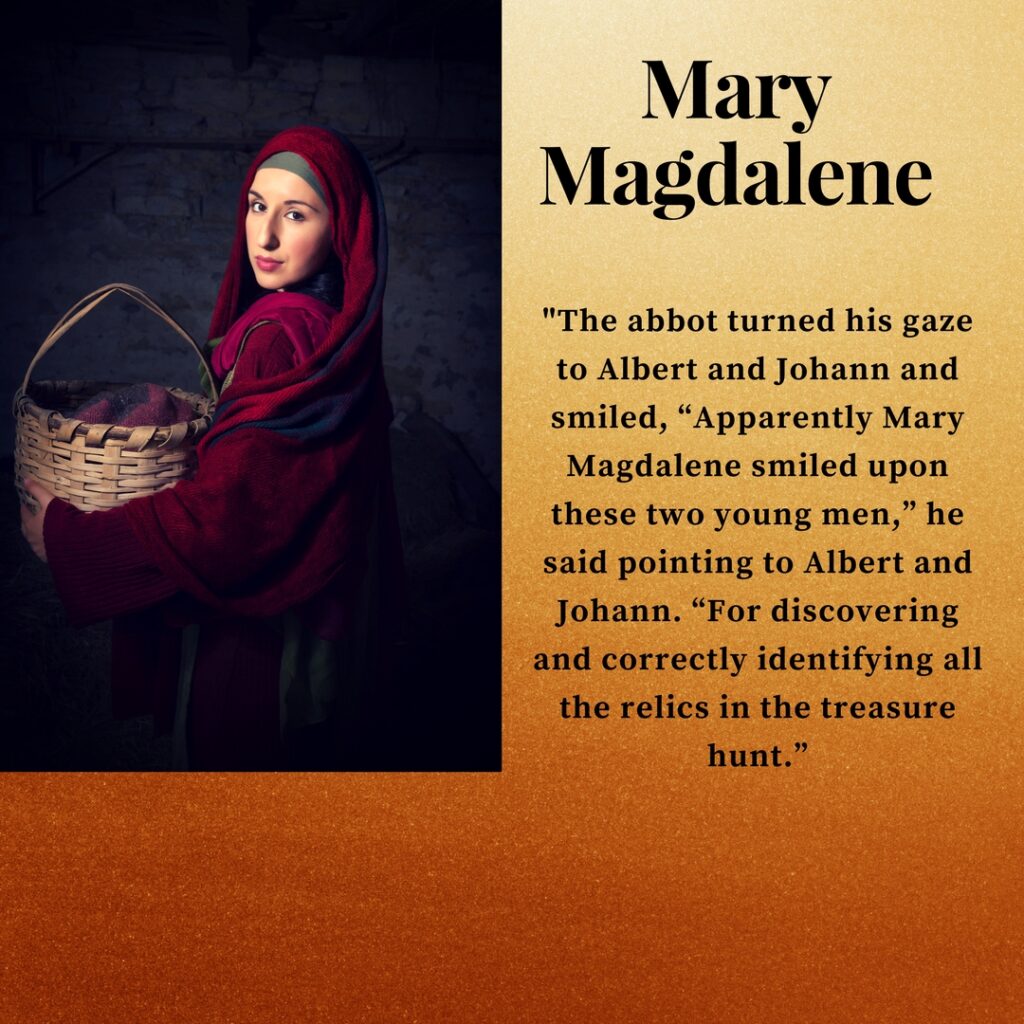 In my writing process, I sit at my computer and compose whatever appears in my mind. When I run out of words, I get up and do chores, wash dishes or walk.  In meditation, I send loving thoughts and bless the story. Usually a character or a theme of the narrative will appear to me in pictures. When writing "Einstein's Compass a YA Time Traveler Adventure", I was working an episode in the mountains outside of Munich, Germany. Albert and his companion Johann visit a monastery. Using Albert's supernatural compass, the boys take part in the annual treasure hunt of Mary Magdalene's Feast Day. Unexpectedly, in my mind, Mary Magdalene appears to me. She wishes to be in the story. The heavenly saint advises me to compose the chapter. After I write the episode I learned in my research, she remained the last thirty years in a cavern in the south of France. My husband and I were traveling on a Mediterranean cruise in a few weeks and would be near her last resting place. I arranged for a guide to take me to the Grotto where Dominican Monks have a sanctuary dedicated to Mary Magdalene. In the sanctuary, I pray to her and seek a blessing. To my right, a golden light appears I hear her voice, "Welcome Sister".
Einstein's Compass a YA Time Traveler Adventure
A Miracle
Though they were as eager as the rest of the boys to start their search, instead of rushing off aimlessly, Albert and Johann trotted over to the green lawn next to the monastery's central walkway and sat down. Albert wanted to approach the hunt rationally. He laid the map on the grass and took out his precious compass.
"What are you going to do with the compass, Albert?" Johann wanted to know.
"I'm not sure, but I felt like it might help us focus on the clues and where we want to go," he replied as Johann settled himself next to him, watching with interest.
Albert opened the top of the gem-encrusted compass and set it on the map as he considered the layout. The morning rays were reflecting on the device's face. Looking at the map and then the topography of the surroundings, Albert tried to determine where they needed to go. He pointed to the chart and said, "The first set of coordinates is 47.58 north 11.118 east, but it's not clear exactly where that is."
As Albert spoke the coordinates, a beam of violet light suddenly shot out of the compass, extending to a point on the map. Both boys gasped in shock. They could not believe what they saw!
Johann gulped and whispered, "What was that?"
Albert could only stare as the light disappeared. Then he closed his eyes and rubbed his temples as if he was trying to ease an ache. "I have no idea. It's scientifically not possible."
Johann regained his wits and grabbed Albert's arm. "Yeah, but it happened. If it's scientifically impossible, then it must be magic!"
Albert shook his head as if to clear the thought from his mind. "I can't say it's magic…" Then Albert brightened. "But whatever it is, it's given us a destination. Let's go!" He scooped up the compass and the map and scrambled to his feet.
Spurred by their desire to win the competition, the two adventurers scampered down from the mountain church into a grove of fir trees. As they walked, Albert's gaze was drawn to a young woman dressed in a red cloak near the edge of the trees. Her dark eyes radiated pleasant warmth as she beckoned him to follow her. For a moment, Albert's eyes met hers, and Albert jerked as if he had been jolted by a bolt of electricity. The woman smiled and motioned again.
Albert could only stare for a moment, speechless. Then, gathering his wits, he pointed and said to Johann, "I… I think that woman wants us to follow her!"
"What woman?" replied Johann, looking around.
To Albert, Johann was looking right at the woman. He paused, then said, "Never mind. Just follow me," as he started off after the woman.
"Uh, right," Johann agreed, a very puzzled look on his face.
The boys hiked through a meadow of brightly colored flowers and thick wild grasses. Their mysterious guide glided ahead of them, then stopped at a whitewashed picket fence. She pointed to a cluster of white, purple, and red roses inside the enclosure. "She wants us to go in there," Albert said. His heart seemed to swell as her gaze crossed over him.
Frowning in bewilderment, Johann swung open the garden gate and stepped onto a pathway that led to the center of the rose garden. There was a red flag on a thin pole that reached over the rose bushes. Near the marker was a single gold rose laying on a mahogany bench, the sun's rays glistening off its metal petals.
Albert approached it, making sure he didn't disturb it. "Looks like we've found our first relic," he said, handing the map to Johann. "Which of the clues does the gold rose to go with?"
Johann scanned the clues. "Hmm. I've been studying the relics of the monastery, so let's see if my work was worth it." Moving his finger down the clue list, Johann suddenly stopped. "Here!" he said, poking the paper. The clue read, "The founder's prize." Johann nodded to himself. "The gold rose belonged to the founder of the monastery, Duke Albrecht," he said, writing: "Albrecht's gold rose in the rose garden" next to the clue.
"Good work, Johann!" Albert said approvingly.
Johann nodded and looked up from the map. "Thanks. But your compass sure played its part. Have you used it for directions before today?"
Albert shook his head. "I don't need a compass to get around Munich, so there's been no need. That's one of the reasons I was looking forward to this trip—to test it out. Uh, and of course, to spend some time with my best friend," he added with a grin. "This treasure hunt is a fantastic exercise—a real experiment in a controlled environment." Albert scratched his head. "But I have to say, I was as surprised as you were when I opened the compass and that beam of light shot out of it."
"So that's not what usually happens with compasses?" Johann asked, pretty sure he knew the answer.
"Not by a long shot," Albert responded, his dark eyes sparkling with delight.
"Well, let's open the map and see if the compass helps with the next clue," Johann suggested.
"Right," Albert agreed his curiosity now in high gear. This time, he was ready to observe the phenomenon, if it happened again.
Albert carefully opened the map on the opposite end of the mahogany bench from where the golden rose sat. He laid the compass on it and picked another set of coordinates at random. "How about 47.964 north, 11.202 east." For a moment, nothing happened, and Albert thought the first instance must have been a fluke. Then, the compass lit up and projected a thin beam of violet light to a point on the map.
"Oh. My. Gosh," Albert gasped.
Johann shook his head in awe. "How does it do that, Albert?"
"I have no idea! There isn't a power source, yet the light radiates out when I say the coordinates. That's…just…not…possible."
"Yeah, but it happened…again!" Johann tugged on Albert's arm. "Come on. We've got a scavenger hunt to win!"
Carefully closing the compass, Albert let his friend lead him toward where the compass had indicated the next relic would be. As the two adventurers made their way through the countryside, Albert saw the woman in red nearby. She appeared to be waiting for them. Albert closed his eyes and shook his head. He opened them to find her still smiling, inviting them to follow her. As before, Albert felt a tingling all over when the woman in red was nearby. It was hard to describe—a sort of joyfulness that overcame him upon seeing her. "Johann, there's that woman in red again. She wants us to follow her."
"Really? Where?" Johann turned left, then right, following Albert's lead.
"Over there."
"If you say so." Johann headed in the direction where Albert was pointing.
"When we get back to the hall, I'm going to ask one of the monks if there's a woman that looks like her living around here."
"Good idea," Johann nodded. "She sure seems to know about the treasure hunt and where the relics are."
Johann stuck close to Albert as they followed the woman through wheat fields and lush, green grounds. Finally, they came to a pristine, crystal pond. Tall, willowy pine trees and wild blueberry bushes lined the shore on its far side. Johann pointed to a blue flag near one of the trees. "There!"
"I see it," Albert responded, his heart racing and picking up his pace, not registering that the woman in red was now nowhere to be seen. Next, to the flag, they found a miniature pine decorated like a Christmas tree. Albert scratched his head. "A Christmas tree in July?"
Johann read the clue on the treasure map: "What did St. Nicholas adds to the celebration of Christmas?" Looking at Albert with a smirk, he said, "That's easy! St. Nicholas started using a tree in the holiday festivities. There are several relics of his in the monastery."
"Hmm, interesting," Albert said clapping his partner on the back as Johann wrote the answer: "St. Nicholas's tree near the pond,'" next to the clue.
"Thanks to the compass and your invisible lady, we're two for two." Johann reached for a piece of cake he'd stuffed into the pocket of his lederhosen before they left. He unwrapped it from its cloth napkin and offered his friend a bite "So, what do you say we stop for a minute and rest?"
Albert firmly grasped Johann's wrist and shook his head. "Not until we've spotted all the relics. You can rest," Albert emphasized, "when we have completed the course and beaten everyone back to the hall." He placed the map atop a boulder near the sandy shore and carefully set the compass on it. Picking another set of coordinates, he said them aloud.
Nothing happened. Johann and Albert both blinked and stared at the compass. Albert spoke the coordinates again—this time more slowly and clearly. The boys waited. Nothing. The compass did nothing.
"I guess we've lost our edge," Johann shrugged.
"Wait, Johann, the abbot, told us not all the clues were useful. Let's give the compass another chance." Albert scanned the map and picked another set of coordinates. "Find 47.968 north, 11.194 east."
After only the briefest pause, the compass beamed a tiny light to a point on the map. Johann's face lit up. "You were right! Come on!" Johann yanked Albert's sleeve. It was all Albert could do to snatch up the compass and map before Johann had him hurrying off in the new direction.
As the boys marched past the tree line, Albert once again saw the woman in red a short distance away. She pointed to a farmhouse down the road, but as Albert and Johann stepped closer, she evaporated into thin air. Albert froze in his tracks, but Johann just kept walking as if nothing had happened. Of course, Albert realized, Johann can't see our mysterious guide…only I can.
The boys walked down a narrow, dusty road toward the farmhouse. It was a long, red-brick-and-timber-framed house about 15 meters long. Behind the house, several chickens scratched in the yard. A green flag stood next to the chicken coop. As the boys approached the flag, they saw a short, wooden stool. On the seat, in a woven basket trimmed with fresh moss, sat a single red egg.
Albert smiled to see the flag. "Okay, this must be it." He paused and wrinkled his brow. "But what kind of relic is a red egg?"
Johann smirked. He liked knowing things Albert did not. It was undoubtedly a rare occurrence. "The red egg was a present Mary Magdalene gave Emperor Tiberius. She brought him a white egg to signify the birth of Christ. When he saw the egg, he laughed and said, 'I will believe it represents the Christ when the egg turns red.' As Mary Magdalene extended the egg to the emperor," Johann continued, "it turned red."
"Really?" said Albert, not quite sure what to make of this story.
"Uh-huh," Johann nodded, taking the map and writing: "Mary Magdalene's red egg in farmyard" next to a clue that said, "What convinced Tiberius?"
"Well, I don't know about the story," Albert said, "but I'm sure glad your secret studies included the relics of the monastery. I would have had no idea which relic matched what clue."
Johann blushed at the praise, "Thanks for saying so, Albert. But let's keep going with the hunt."
Albert agreed and spread open the map. He placed the compass on it. Johann pointed to one of the coordinates, and Albert read the numbers aloud. Nothing emitted from the compass. Albert repeated the coordinates, and when there was no response again, he quickly learned through the few remaining coordinates. Each time, the compass remained unresponsive.
Johann frowned. "Do you think the compass is broken, Albert?"
"Could be, but I think it's more likely that we have found all the clues."
"That sort of makes more sense, I guess," Johann conceded. "If that's the case, then let's head back to the dining hall."
"Right." Albert carefully folded the map. "We did this together, and I want us to win."
Johann smiled. "We did it together."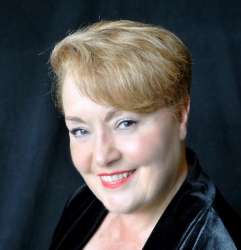 Latest posts by Grace Allison
(see all)