Wintry weather has never been my friend. Memories of snowy blizzards in Upstate New York as an adolescent remind me of intense fever and tonsillitis. Going to sunny, tropical South Florida when I was nine restored my strength. Since I moved to Texas in 1985 winter weather is like a roller coaster. Dawn occurs with conditions in the twenties. By noon, it's fifty-nine degrees. Christmas 2016 we had a snowstorm that left two feet of sleet in one day. For two weeks businesses and schools closed. I recall how peaceful our neighborhood sounded. The sniff of firewood burning in fireplaces wafted the crisp air. One week into being homebound my husband had a doctor's appointment. So, I pulled on fleece pants, sweatshirt, headgear and mitts to shovel our one-hundred-foot by thirty-foot entrance. Five hours later sticky and exhausted alerted me of why I despise snow. Yesterday was a delightful break for January. A frosty, misty twenty degrees at six am heated to sunny blue skies and fifty degrees by noon. I played golf with five of my friends. We had the rarest eighteen holes in weeks. Someday I would wish to retire to beaches and a warmer climate. I miss getting into a bathing suit in January.
Einstein's Compass a YA Time Traveler Adventure
Chapter 16
The Spider Spins Her Web
Einstein's Compass Novel Website
The midday sun was finally breaking through the heavy snow clouds. Werner grasped the crumpled note he had gotten at the Dark Sun initiation a few nights back; a hastily written invitation from Countess von Baden to visit her home, Altes Schloss Castle. As he hiked up the steep trail, Werner could hear waves breaking against the craggy cliff behind the castle, which sat on a rocky promontory overlooking Lake Constance.
Werner was more than a little nervous about his meeting with this woman. He did not know anyone like her. He rolled his shoulders in a vain attempt to relax. The nearly three-hour train ride from Munich had left him tired and restless. He was getting in deeper and deeper with these people he hardly knew, and he wondered why the Countess wanted to help him with his initiation task. Despite the cold, his hands were warm and sweaty in the knit gloves he wore.
The smell of wood burning in a fireplace of the nearby castle made him melancholy. He really wanted to be in the familiar comfort of his family home, with the Christmas decorations around the tall spruce tree in the parlor. Instead, he was trudging in God knows where to find out how to do a stupid task that somehow would get him closer to the respect he so rightly deserved.
He finally reached the bridge that led to the castle's entrance. He made his way across it and walked through the open wrought-iron gate. He found himself in a snow-covered courtyard, and he passed a statue of a knight from the Crusades sitting astride a horse, his sword drawn as if in salute. Looking around for the castle door, Werner saw a torch-lit on the western side of the courtyard. He walked over to it and found a massive iron key in the lock waiting for him. He took in a breath, stuffed the invitation into his pocket, and tugged on his clothes to straighten them.
Satisfied that he was presentable, he turned the giant key. A loud clunk shattered the quiet. A slight chill shivered up his spine as he strained to push the massive door open. Time seemed to stand still as he peered around into the grand hall. His heart raced when he gazed up at the soaring Gothic architecture.
His gaze was attracted by movement inside the room. As his eyes adjusted to the gloom, Werner saw the Countess. She was walking toward him, cat-like, in her floor-length maroon silk robes, their black mink trimming shimmering in the dim light. Smiling, she crossed the black-and-white checkerboard tile floor and extended her hand. "Welcome, Herr von Wiesel. How was your journey?"
Her voice was sultry, and she ran her hands through her waist-length ginger locks, then flipped her cascading hair back over her shoulder. Her mesmerizing, amber, cat-like eyes seemed to glow, and they mesmerized the boy. Then his gaze was captured by a red ruby embedded in a gold spider hanging on a gold chain necklace nestled in her amply displayed cleavage. Werner sucked in a breath as he became more firmly enmeshed in her web.
He managed to tear his gaze away from the spider and licked his lips. "Uh, it was good. I was glad to leave Munich for a while. And please call me Werner." Fighting to regain his composure, he smoothed back his hair, then crossed his arms.
The temptress said, "You must be cold from your journey." She took Werner's hand and led him toward the fireplace. "Come, sit with me on the sofa near the fire."
As they sat, Werner was grateful to see that the knee-high rosewood table in front of the couch held a polished silver tray with a lavish spread of fresh fruit, cheese, meat, bread, and cakes. A silver teapot with a monogrammed "B" adorned the china.
Werner had last eaten at breakfast and did not pack anything for the train ride. That and the trudge from the station up to the castle had built up a monster hunger. The Countess noticed his glance and said, "Forgive me, you must be famished." She gestured to the tray. "I had had my servants prepare a snack for you before I dismissed them for the remainder of the day. Please, help yourself." He needed no more invitation than that and began piling cheese and sausages on a thick slice of still-warm homemade bread. He closed his eyes, inhaled in delight, and his mouth opened wide for a big bite.
The sorceress teased Werner by smiling and pushing his hand with the sandwich away from his mouth. "Not so fast. I invited you here so we could talk privately. Have you told anyone about your visit?"
"No, of course not. You were quite clear I was to tell no one."
The Countess narrowed her eyes. "Not even Raka? Especially him."
Werner shook his head firmly. "No, I told no one. Not even my parents. I just said I had to do some school stuff for the day and I might be back late." His puppy dog eyes pleaded with the Countess to allow him to take a bite from his sandwich.
The Countess paused just a moment longer, letting Werner know who held power here, then, with a smile, motioned with her inch-long, blood-red fingernails for Werner to eat. The hungry young man turned his attention to the food and in just a few brief minutes had sated his hunger. Heaving a deep sigh of satisfaction, he slouched back into the depths of the plush couch and turned once again to the Countess. She had a half-amused smirk on her face as his eyes were once again drawn to the gold necklace… and what it rested upon.
"Do you like it?" she asked coyly.
With an effort, Werner brought his eyes to her face, and he turned quite red. "Um, what?" he asked sheepishly.
"The necklace," the Countess said, leaning toward Werner and revealing even more of her ample cleavage. "Do you like it?"
"Oh, yes," he stammered. "It's very… I mean…"
The Countess laughed and sat back as Werner struggled to bring his thoughts to the reason for his visit. He was very distracted and was experiencing feelings that were unfamiliar to him. The Countess, for her part, found his discomfort amusing. Finally, Werner gathered his wits. "Countess, you said you would help me. Why am I here?"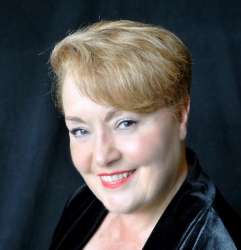 Latest posts by Grace Allison
(see all)